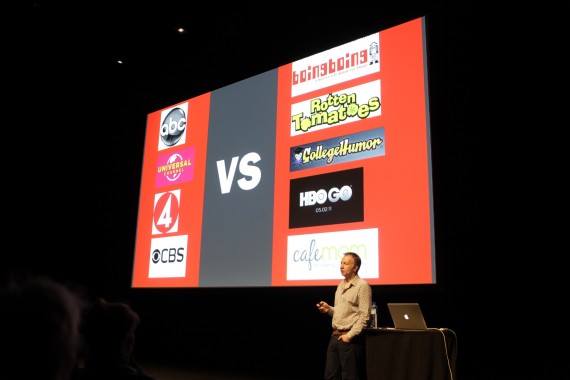 Charlie Maver foredraget med dagens beste Ã¥pningsreplikk; "As a huge lifelonglife fan of Manchester United, I am delighted to be in the home country of Ole Gunnar Solskjær. That is why I accepted the invitation really"
Red Bee Media er en aktør som jobber med noen av verdens ledende broadcastere som BBC, FOX, Discovery, Virgin Media, Telecom Italia og UKTC. Deres spesialfelt er hvordan nÃ¥ ut til folk og hvilke plattformer de ser dem pÃ¥. Som han selv sier " hvordan fÃ¥ folk i England til Ã¥ forbinde Family Guy til BBC Three og ikke en annen kanal via nettet osv selv om programmet er kjøpt fra Amerika. Underveis viser han oss en hel rekke programreklamer. De er bÃ¥de humoristiske og distinkte.
Denne snutten ble laget for programserien Luther.
PÃ¥ hjemmesiden deres finner du flere snutter her er link til en av dem. Her
Et annet interessant tema han tar opp er viktigheten av å skape en klar profil på kanalene de jobber med. Når en klient kommer til dem, er det første de gjør å gå igjennom alt fra programpakken til den visuelle profilen for å skape en klar stemme. En gjennkjennelsesfaktor hvor seeren vet hva han får.
En bekymring som de store kanalene har mistet nattesøvn over; er alle de nye plattformene. Men det viser seg at folk er mer latente til å sitte igjennom en reklame nå enn før, fordi de nå har en ipad eller lignende de kan fikle med i pausen. Noe som kan være positivt i forhold til reklameinntekter. Dual screen er også en økende trend. Dette er også med på å beholde seeren på kanalen.
Red Bee er helt tydelig svært kunnskapsrike og det er spennende å høre om hvordan de jobber. Men her blir det så mye high-tech snakk at det er vanskelig å gjennfortelle alt.
På spørsmål om hvordan reklameaktørene vil endre hvordan de reklamerer svarer Charlie at vi nok kommer til å se mer interaktive deler av programserier. At feks en serie ikke nødvendigvis får en sesong to, men at andre sesong går over på en annen plattform hvor reklameaktørene får en større plass.
Sjekk ut hjemmesiden til Red Bee Media her