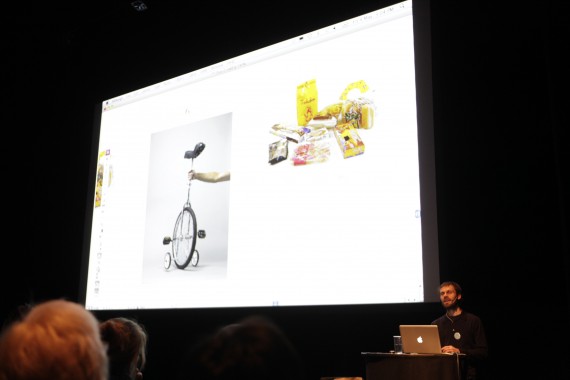 Daniel foran en enhjulssykkel med støttehjul
Daniel Eatock er Londonbasert og er en grafisk men er vel like mye en kunstner enn en noe annet. Men han jobber pÃ¥ tvers av mange medier og har mange tanker bak det han gjør. Han er opptatt av at ringen sluttes og innleder hele foredraget med Ã¥ sende sitt kamera rundt og be alle ta bilde av sidemannen og sende det videre for at alle skal avbildes. Siste mann tar bilde av Daniel og som han selv sier " then we'll be connected. Hans mange smÃ¥ betraktninger om ironiske temaer som feks at han konsekvent tar bilde av skilt som sier "photography not allowed" Han viser et bilde av spraycan som er sprayet med sitt eget innhold. Dette gjorde han ved Ã¥ spraye rett inn i en vifte. Et annet ironisk bilde er et puslespill med over tusen brikker med bilde av puslespill som ligger hulter i bulter. Han sier selv at det er nesten umulig Ã¥ legge nÃ¥r det er i biter.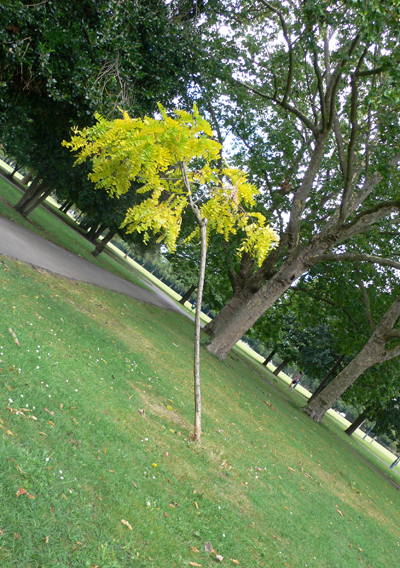 Daniel har helt tydelig et annet sett med øyne enn de fleste, han ser på verden på en humoristisk måte og setter spørsmålstegn ved oppleste sannheter. Som når han viser et bilde av mat som går ut på en viss dato. Så viser han bilde av samme maten en time etterpå. Da er maten helt identisk, men etter samfunnets normer, uspiselig.
Ofte tar det litt tid å se humoren eller ironien i bildene hans, og der ligger mye av kvaliteten i kunsten hans. Det er alltid noe interressant og vittig der.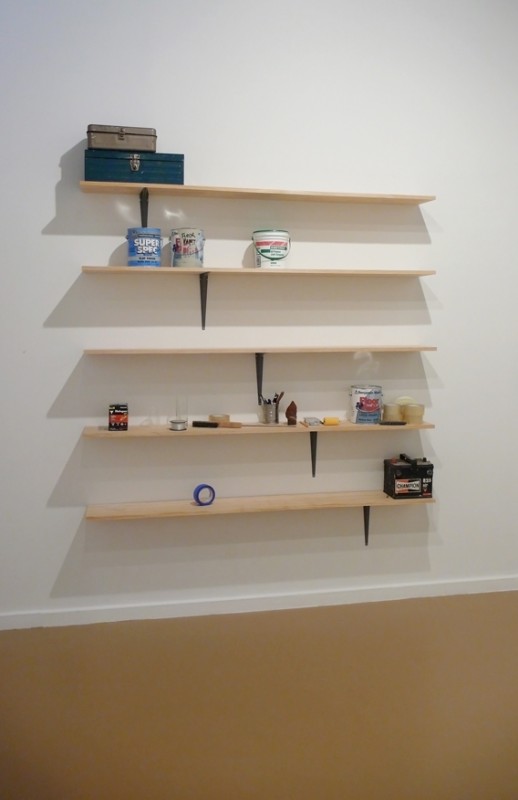 Virkelig verdt å sjekke ut.