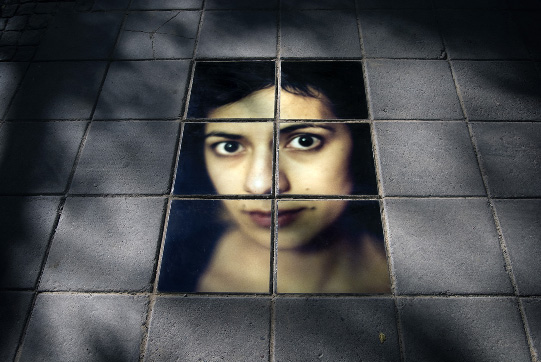 "It is simple. The city is sad. There are little things that surprise me and get me laughing when I am stumbling out the door to buy milk."
While most of us can agree with this statement found on the Malmö Streets Projects's homepage, not so many of us are actually doing something about it. This may be why we tend to appreciate the ones that do even more.
With their great variety of art and other projects in the streets of Malmö, Malmö Streets Project is certainly making the lives of this Swedish city a little more exciting. So who are these generous guys, and why are they doing like the do?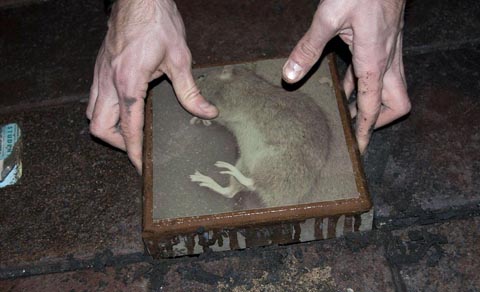 To start with, can you please tell us a little about the Malmö Streets Project?
We are mostly me.
And pete who is the man behind the photographs.
And sometimes some other people.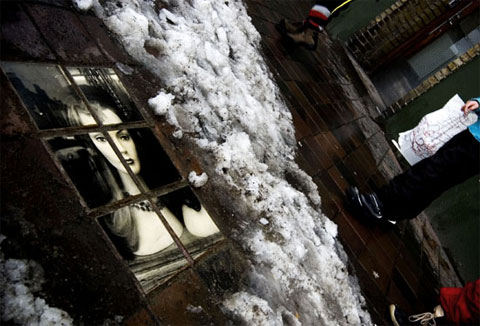 What is your motivation for making street art/ street interventions?
Mostly cause it is fun. And that there are more or less no boundaries or limits, total freedom. Which is good and hard to find…
I also like the meaninglessness very much. Usually in everything we do there tends to be a more or less obvious goal. Money, fame or something else.
I like the idea of putting a lot of time and effort into something which by the most conventional criteria would be called meaningless or stupid. And yet it is so fucking important in some way i guess.
You are using a wide spectre of techniques and styles in your work, ranging from bricks, photos, signs, billboards liberations, flowers etc. Any techniques you prefer?
I prefer everything. I like learning new things and trying out new materials and teqniques. As soon as I know how to do something it is not as interesting anymore. That is why I never get very good at the things i do.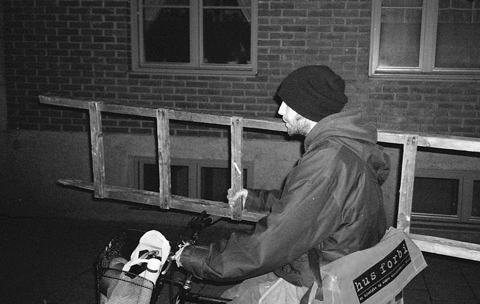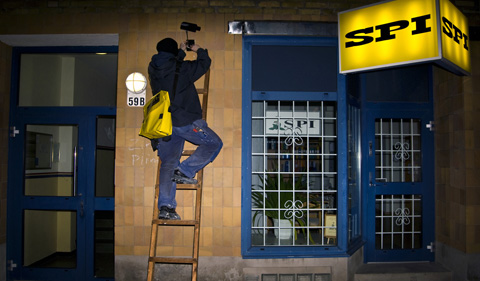 What is your favourite piece (of your own work) and why?
I like things that come out of a need, things that have a purpose, like the benches we built at möllevångstorget.
There are always people sitting on the ground at möllan when the sun is shining. But i guess the city planners and architects of malmö stad don't think it would be a good idea to put benches where people obviously want to sit, but we do… So we built 7 or 8 benches.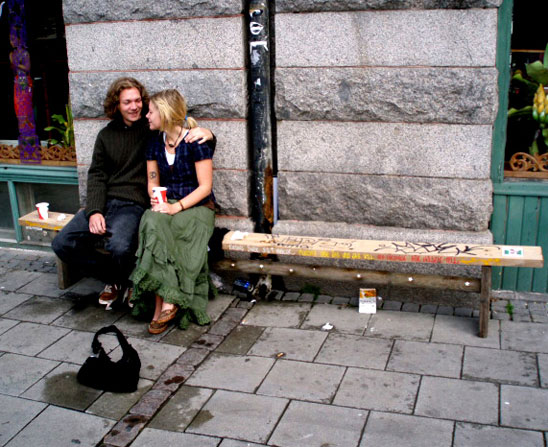 I also like the two boards i made at the central station where people could put their used bus and train tickets for others to use. They are valid for an hour so often they could be used by a few people…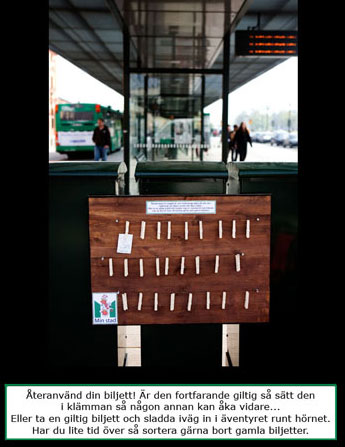 Your work seems to be very idea- and concept based. How is the process behind your work, spontaneous or a result of rigid planning?
Quite different i think from time to time. The ideas are always spontaneous but as banksy says it can take alot of planning for mindless vandalism.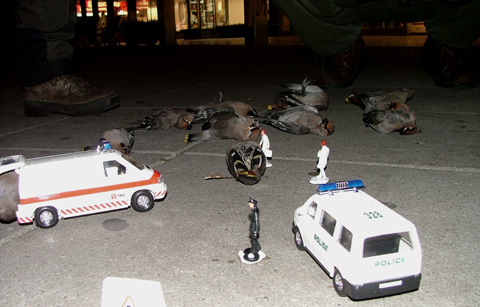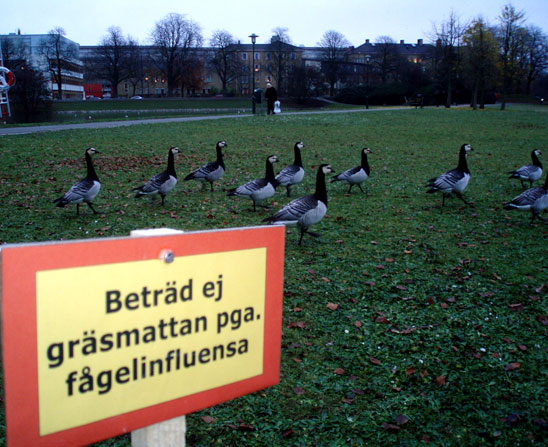 What and who inspires you? Any favourite artists?
As everybody else i guess i get inspired by a lot of different things. Other artists, music, rain, my toilet, garbage…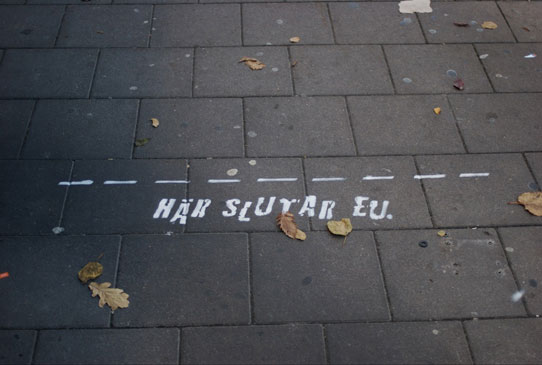 The street art scene has experienced a real "boom" the last couple of years, with works being sold for millions (i.e. Banksy) and major exhibitions with street artists taking place almost constantly. What do you think about this development?
I don´t really care. I guess it is somehow a natural thing happening. But for most streetartists i guess the streets are the place where they want their work to be, even streetartists need to eat sometimes though…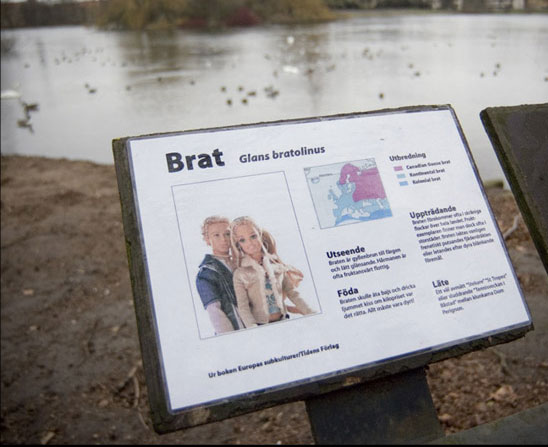 The Malmö Street Project has experienced a lot attention on the web lately. How important is the internet for you? Do you have in mind how your pieces will look online when you make them?
I don´t think the internet is important to us. To get stuff out in malmö is important. That is the goal.
And the documentation of our work very secondary, but it is fun in one way, to see what we have done and to have a website where people can check it out if they find it.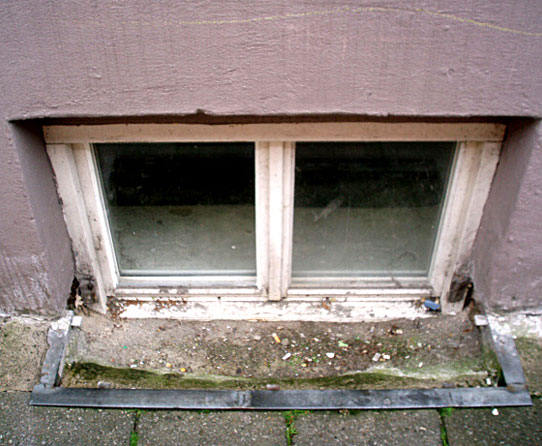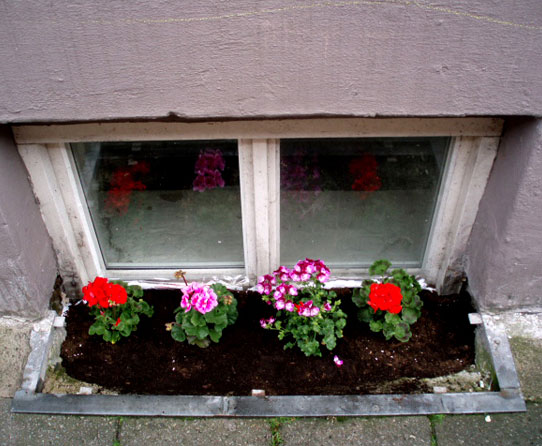 Finish this sentence. Creativity is…
Ahh i don´t know. doing i guess…