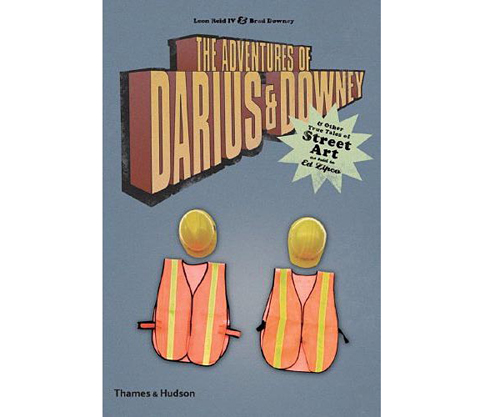 For noen uker siden dumpet den (forholdsvis) ferske boken fra gatekunst-radarparet "Darius & Downey" ned i postkassen min. The Adventures of Darius & Downey er noe så sjeldent som en biografisk gatekunstbok og gir dermed et unikt innblikk i hvordan livet til to av gatekunstscenens virkelige pionerer fortoner seg. Illustrert med 79 bilder fra ulike arbeider er dette derfor en bok som anbefales på det varmeste.
Men som om ikke boken i seg selv var en god nok nyhet, har jeg også fått Leon Reid IV (mannen bak pseudonymet Darius Jones) til å svare på noen spørsmål om utgivelsen. Og det eksklusivt for Onion:Blogg!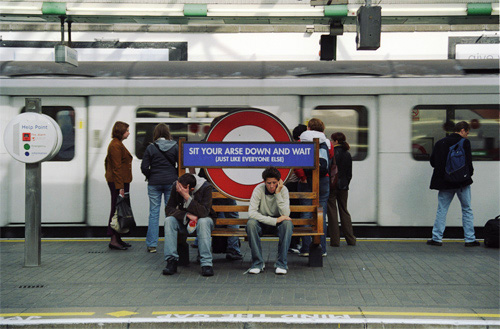 For de som ikke kjenner til Darius & Downeys fra før, kan det være greit med litt bakgrunnsinfo. De to kunstnerne Leon Reid IV (aka Darius Jones) og Brad Downey (aka Downey), har siden begynnelsen av 2000-tallet gjort seg kraftig bemerket med sine fantasifulle gateinstallasjoner som har vært å finne bla i New York, London og Berlin. I sine arbeider bruker de som oftest objekter som skilt, lyktestolper og informasjonssymboler, altså objekter som vanligvis hører gatebildet til. Fra å primært utføre en praktisk funksjon, gjør de to kunstnerne disse objektene om til slående visuelle installasjoner med budskap langt utover det egentlig var tiltenkt å ha. Alltid ispedd en dose humor.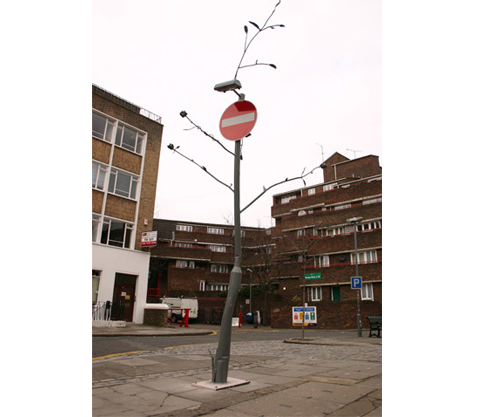 Nyskapende som de er har de altså valgt å la sine arbeider bli dokumentert gjennom noe så sjeldent som en gatekunstbiografi. "The Adventures of Darius and Downey" er ført i pennen av Ed Zipco, og er ellers spekket med bilder fra duoens mange eskapader. Jeg sendte en mail til Leon Reid IV (aka Darius Jones), og fikk han til å svare på noen få spørsmål om boken og hans forhold til gatekunst:
A narrative book about Street Art is not something you see very often( if seen at all). Why did you choose to make the book like this and not like the usual "coffee-table book"?
When I developed the initial idea to come out with a book featuring the work of Darius and Downey, I knew that our only chance of getting a publisher would be to have a somewhat original idea within our specific genre. With regards to the cannon of street art books and publishings, I couldn't think of one book that detailed the experience of street art apart from featuring only pictures and brief analytical descriptions. I realized that street art had not yet produced an account that described the entire street art experience, not just with images but an investigation of the love, pain and adrenaline that is the other half of being a street artist. "The Adventures Of Darius and Downey" is a book which describes this unique urban experience through the eyes of myself and other artists.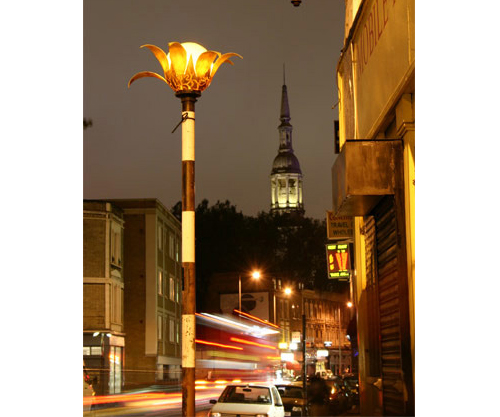 What is your motivation for doing street art?
The interesting thing is that I never set out to make "street art" in the literal sense. The work that I made illegally on the streets of Cincinnati, New York City London and Berlin were attempts to express my love for the urban environment. My work is only "street art" for lack of a better term.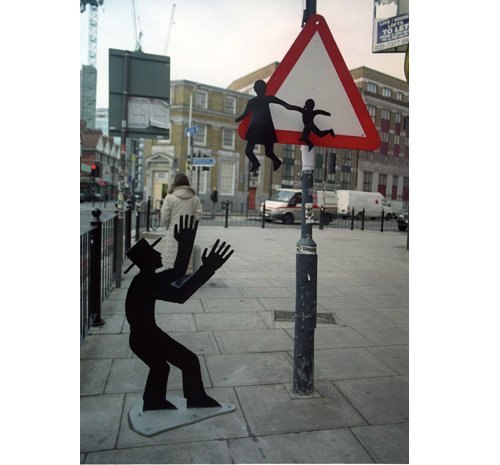 The street art scene has experienced a real "boom" the last couple of years, with works being sold for millions (i.e. Banksy) and major exhibitions with street artists taking place almost constantly. What do you think about this development?
I think that art galleries and other institutions have a natural attraction to movements and happenings which stand independent of them. The fact that more of the art establishment is embracing street art is a sign of their attempt to capture and isolate this medium which knows no bounds. The art world is free to do this of course, however they should do so with the knowledge that graffiti and street artists owe them nothing, and should be thankful any time such an artist agrees to exhibit indoors and/or attach a price tag to their work for reasons of commerce.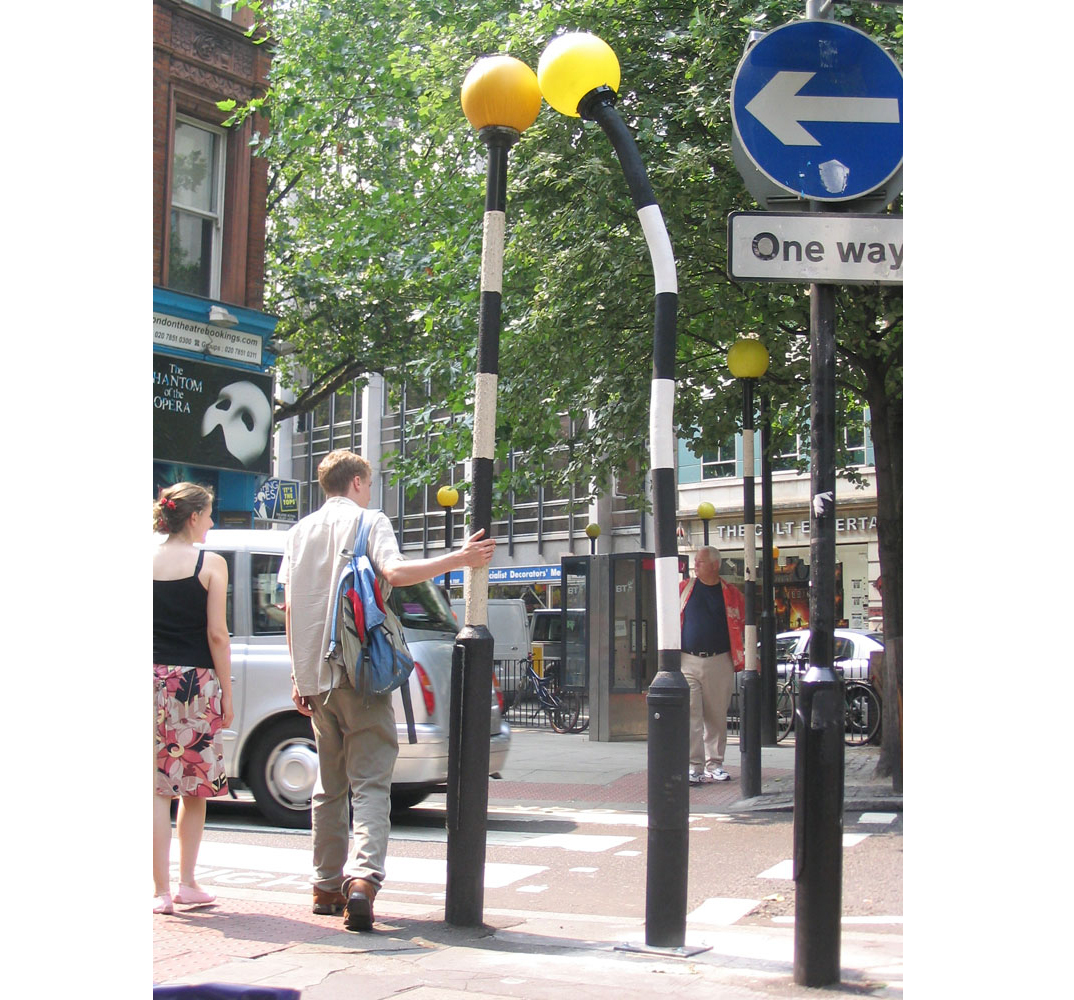 How do you think the street art scene will develop in the years to come?
I think the street art scene will continue to be a medium for those who want to communicate to a wide audience, or those who feel alien to the high art establishment. It is impossible to predict where a form like street art may go but this of course is the most exciting part!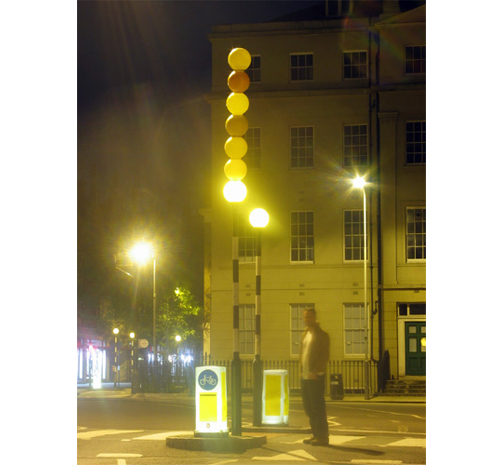 Anything more you would like to add?
To all artists; indoor and outdoor, illegal and legal lets try to use our talent to the best of our ability to reach and inspire others. I feel this is the cheif responsibility of creative people, and always has been throughout the ages.
Last words:
THE ADVENTURES OF DARIUS AND DOWNEY is Available online at www.leonthe4th.com Click on the GOODS FOR SALE section.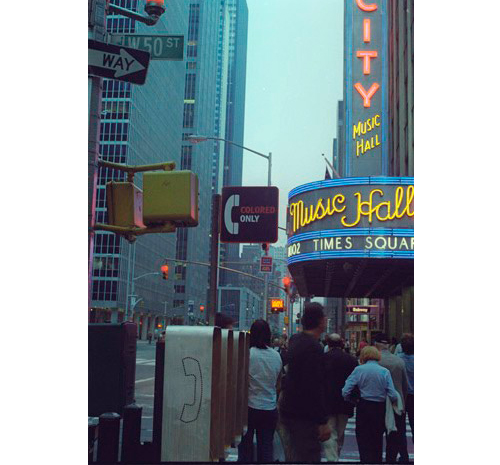 + Leon Reid IV(boken kan kjøpes i "Goods for sale" seksjon)